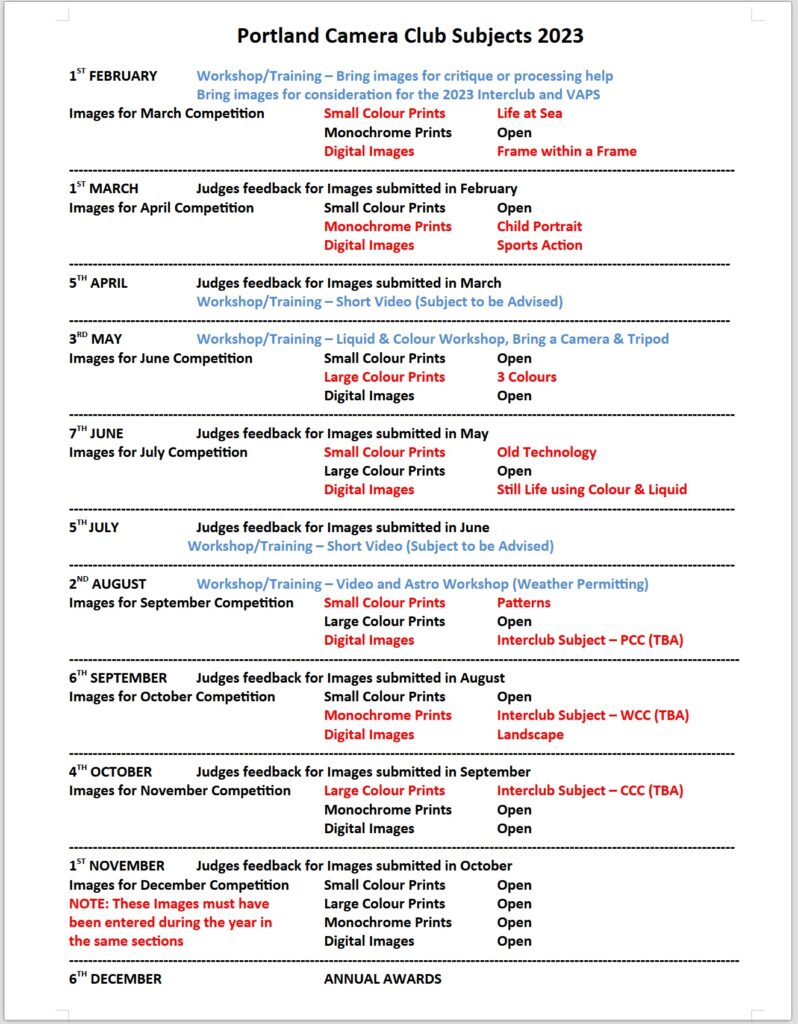 Definitions
LIFE AT SEA: An image which is taken either on the beach or in the ocean. May include ships etc. on the ocean or moored. People/Animals on the beach or water, shells, birds etc.
FRAME WITHIN A FRAME: A frame within a frame is Photography composition technique. Within the four sided frame of the photograph, another frame enhances the composition. It could be an actual frame like a window frame. Doors can make interesting frames.
CHILD PORTRAIT: A Portrait of a single child or children which may range from a formal head & shoulder shot to the whole child/children either passive or in some form of activity.
SPORTS ACTION: A picture featuring a person or people participating in some form of sporting event.
3 COLOURS: The print should be predominately of three distinct colours.
OLD TECHNOLOGY OF THE PAST: The print should depict an item/s from the past which is now obsolete and replaced with modern technology.
STILL LIFE IN LIQUID & COLOUR: Anything can be in the image as long as it is NOT living. An arrangement in natural or an artificial setting using Liquid and Colour. An Inanimate object/s
PATTERNS: An arrangement of subjects, shapes or colour, which is interesting or aesthetically pleasing to the eye.
LANDSCAPE: A picture featuring the natural scenery of the terrain. Must include foreground, middle scenery, & section of sky. People are excluded.
INTERCLUB DPI: PCC To be advised.
INTERCLUB MONOCHROME PRINT: WCC To be advised.
INTERCLUB LARGE COLOUR: CCC To be advised.